Role of Past in our life
As we get involved in our everyday life and jobs, minute by minute, hour by hour, we are fully immersed in our daily, present experiences. These experiences remain within us, afterward, at a subconscious level. They are there, we are just not aware of them at a conscious level. Despite our lack of awareness of them in our mind, they affect us a great deal. These experiences drive our actions, impact our thoughts and words; they define our self-esteem and self-perception.
Imagination of the Past
How often do we think about our past? How often are we reflecting about our life experiences? How often do we critically think about our past actions? Our modern, non-reflective, fast-paced society conditions us to leave our past untouched, unscathed. We tend to label our experiences with single emotions–happy, negative, traumatic, problems, and crisis. This labelling prevents us from improvements and growth.
Influence of the Past
How much of our past is affecting our present? How our emotional scars are are affecting our present status? What is the role of our past experiences in our search for growth and improvements? We are our past, our past is us and it's time to conquer it. Just like a lock box inside our basement, our experiences are sealed deep underground. It's a place we never go. It's deep down and strikes us with fear. We'd rather not think about it. In fact, we'd rather forget what's in the basement, altogether. In order to evolve emotionally we have to bring the past into awareness. We must build the courage, strength, and skills needed to look back to our life experiences and reframe them. The reframe part here is key. Reframing is rethinking and changing the way we look and feel about events and experiences. Conquering Our Past is a must if we would like to undertake a path of positive change. Reflecting about our past experiences, events, occurrences is a necessary step. It's never too late to
initiate such a process.
Incorporating the past in our life
Are we ready to take those stairs down to the basement? Are we ready to open our heart and mind to our past? Are we ready to look at our past with different lenses? Are we ready to sustain a path of continuous growth? Before we undertake this exciting journey, we must develop those assets and skills that will enable us to be successful and to ensure we will be strengthened as a person after the journey. In my book "Decoding Human Nature: Essays on Logic, Evolution, Teaching and Learning, I define Human Logic as a "series of behaviours, thoughts, and actions geared toward the preservation and the improvement of the self— one's physical, emotional, and physiological well-being.
Embracing the past
Human Logic dictates the fact that we should embrace our past, we should see our past as formative experiences that led us here, in the present. Experiences who made us who we are. We should see and feel our past as milestones for our growth. We should see the positive that came from those challenging situations and value them. We ought to rethink ourselves and embrace all our experiences. There is so much good coming from challenges that are not visible while we are experiencing them. However, when we step out of the situation and observe it from an outside perspective, we can see the benefits that arose from the challenges.
Domenico Model of Hierarchy
The concept of utilizing moments of change to reframe our perspective falls in line with the Domenico Model of Hierarchy of Needs from the book "Decoding Human Nature". Here we explore how the act of reframing the past would allow us to move higher in the DMHN. In the DMHN the need for stability is pretty consistent throughout our evolution, and the need for consistency in our daily lives goes along with many of our other needs. The self-preservation need is very much present in this phase, which contributes to the rise of the need for stability and consistency. The Stability phase can be seen as a pattern-establishment construct, where the need for stability is shown in a well-structured, routinebased, and consistent way of living. Once stability is not present any longer, when life patterns are being challenged, the need for change arises: the need to create something new. The need to change the current system becomes, at times, a necessity. In many instances, this is fuelled by the enhanced
self-preservation instincts playing a crucial role.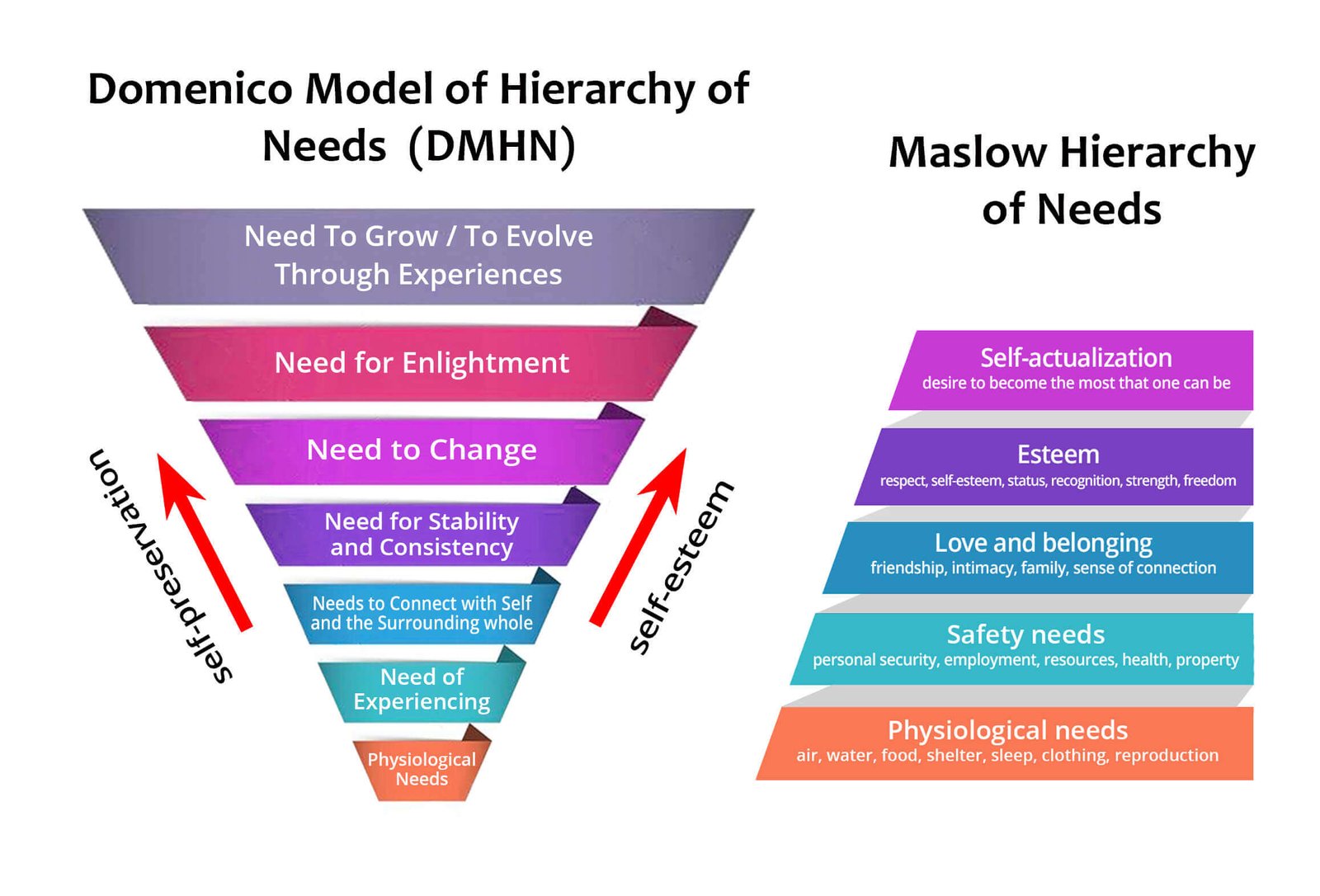 In order to move higher in this emotional evolutionary model, we would need to trigger a change. In our case the change is to journey into our past with the purpose of positively reframing it on a conscious level. The need for consistency and stability is a temporary stage. Since the surrounding variables are continuously changing, either slowly or drastically, there is a need for us to change, as well. At a certain point, change becomes inevitable when the status quo is no longer acceptable. Pain may be the predictor that change is needed.
Pain an indicator of change
Pain may be the predictor that change is needed. Pain is an indicator that something is not working and can be a great motivator. It tells us that it may be time to reflect and to reframe ourselves as human beings. Pain can also teach us that there must be a better way to go about our lives.
Conclusion
As we go through the process of conquering our past it's important to look at our self-image. It's important to protect and to create a higher self-image. In Spirituality, the concept of self-image is key to reach higher levels of emotional evolution. Self-image is also connected with the "inner voice". This inner voice should drive the protection and the enhancement of your self-image if we wish to undertake the journey of conquering our past. We conquer our past through Love, Logic, and Light. We conquer our past through opening our hearts and questioning the status quo. We conquer our past when we find courage in our Heart and Mind.
Author Name:  Dr. Domenico Meschino
Title: Teacher, Author, Business Owner
Email: luminosaglobal@gmail.com
Address: Chicago IL, USA
Website: drmeschino.net