The coronavirus (COVID-19) outbreak is a global pandemic. With schools and colleges shut due to the outbreak, students and parents across the country have many questions on their minds – Till when are the exams postponed? What is the status of admissions in universities? Has the deadline changed for applications?
During these times of health crisis, it's important to stay calm and informed. To help you get a better idea of what's happening on the academic front, here's a low-down of the status of exams and admission processes. No matter what the situation may be, you have to stay on top of the process and avoid college admissions scandals.
Most curriculums including the Central Board of Secondary Education (CBSE) and Council for the Indian School Certificate Examinations (CISCE) have postponed their Class 10 and Class 12 board examinations to April, 2020, after Prime Minister Narendra Modi announced a lock down  in India till the 3rd of May. He has also requested all the states and autonomous bodies such as the CBSE to work on an alternate academic calendar.
On the other hand, the International Baccalaureate (IB) Class XII exams, scheduled between April 30 and May 22, have been cancelled until any further announcement. Cambridge O and A Level exams have also been cancelled.
To make sure students receive the right information about exams and the COVID-19 pandemic, CBSE launched helpline numbers, which will continue from 10 am to 1.30 pm and 2 pm to 5 pm. In a notification released on April 1, CBSE said that it is difficult to announce a new schedule for the pending exams in the current scenario and that it will pass a notice, about 10 days prior to starting the exams.
The Test of English as a Foreign Language (TOEFL) and Graduate Record Examinations (GRE), are crucial exams for admissions in top universities across the globe. These exams will be taken at home in view of the COVID-19 situation across the globe, the Educational Testing Service (ETS) announced.
Looking for a Fun online course? Check out the Virtual Internship Program
Extension of application deadlines
Postponement of exams leads to delay in results, thus affecting the admission process as well. For students who have been accepted to a college but haven't made a decision, institutional responses to the pandemic may make doing so harder. If students haven't already visited the colleges where they have been accepted, a closed campus likely eliminates that option.
Colleges are emphasizing on virtual tours, creating more online content for prospective students and extending the deadline to accept offers of admission. The National Association for College Admission Counselling has encouraged colleges to be flexible with deadlines. A group of admissions professionals – Admissions Community Cultivating Equity & Peace Today – has launched a crowdsourced list of colleges that have changed deposit deadlines from May 1 to June 1. Some of the colleges in this list include:
Missouri State University
Kent State University
Ohio University
Texas State University
U of Massachusetts, Boston, among others
Carleton University in Ottawa
The University has announced flexibility in admission deadlines. "We are aware that some students are experiencing difficulty in submitting documents and test scores due to restrictions related to COVID-19. Carleton will be flexible with deadlines and document requirements – we will continue to work with students from affected areas individually and make accommodations based on their circumstances," the newsletter stated.
New York-based Syracuse University
It has cancelled campus tours, but is offering virtual sessions to interact with students and give them a better idea of what their college has to offer. "While we would like all of our admitted students to visit campus as soon as possible, the University is implementing on-campus social distancing protocols due to COVID-19.
Thus, all campus visit opportunities have been cancelled. Additionally, the admissions office is monitoring the situation closely and will be in touch with students regarding the potentiality of amended deadlines. An array of virtual sessions are already being offered for admitted students this spring," said Brendan P. Bond, Assistant Director, International Admissions.
University of St Andrews in Scotland
The institution has assured that admissions continue to remain open and the assessment of applications are going on. The official website said: "Applications are currently being assessed within our normal time-frames. For undergraduate UCAS applications received by 15 January 2020 we expect to make decisions by 31 March 2020. For all other undergraduate and postgraduate applications, we will continue to make decisions as usual, and these will be communicated to applicants by email within normal timescales."
In Australia, University of Melbourne continues to be open for students who would like to visit the campus: "Campus tours are held on campus twice per week. We also engage via Zoom meetings."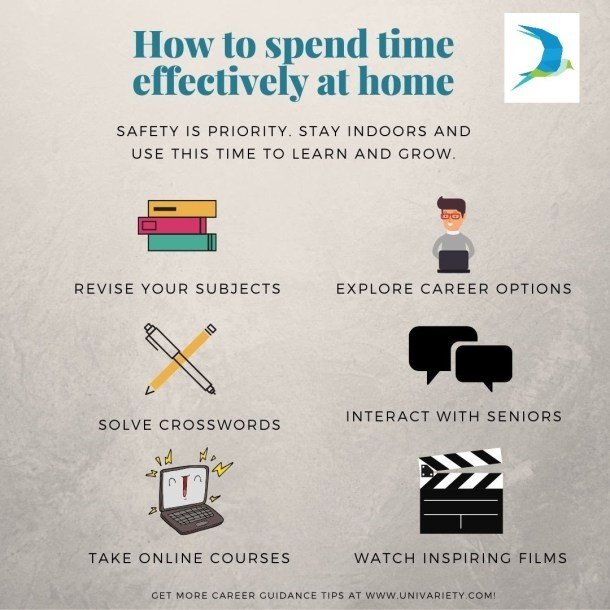 Grace time for prep
Entrance exams like SAT (May 2, 2020) have been cancelled by the College Board. Closer home, JEE Main 2020 exam has also been cancelled. New date announcements are expected on March 31. This leaves students with more time to prepare for board exams and applications.
As students shift to learning at home, it's important to have a structure and plan in place. Organise your days, maintain study habits and identify a good spot to study. If you're a junior or senior who is looking to go to college, taking entrance exams, try to put in 30 to 60 minutes a day on each test.
This is also the perfect time to make informed career choices. It is common and alright to feel confused while deciding what's the right career option for you. We have a fun solution to that problem! Virtual Internship Program is an interesting and exciting online program that allows you to explore different professions, solve their tasks and understand their world. Science, Architecture, Fashion, Law, Accounts and more – there are 18 career options for you to explore.
The pandemic might have changed a lot of your plans, but that leaves you with extra time to prepare for them. Spend your time wisely to make sure you have a bright future.
Check out the Virtual Internship Program here
Source: Source: https://blog.univariety.com/covid-19-everything-you-need-to-know-about-exams-and-university-admissions/