Under the patronage of Mr. Pankaj Agrawal, Vice Chairman, GL Bajaj Educational Institutions and strategic acumen of Dr. Urvashi Makkar, Director General, GLBIMR; The spirit of 72nd Independence Day was marked by organizing the 3rd Blood Donation Camp in collaboration with Lions Blood Bank, New Delhi and 'Vanmahotsav' Tree Plantation Drive on August 16, 2018 at GLBIMR. The inauguration of the Blood Donation Camp was done by Dr. Urvashi Makkar, Mr. PK Aggarwal, Chairman – Lion Club, Mr. Anurag Anand, Administrative Manager – Lions Blood Bank, Mr. Arun K Mittal, Ex-Dist Governor, Mr. CK Tyagi, Senior Member – Lion Club, Smt Usha Rani Aggarwal, Senior Member – Lion Club, Mr. Akshay Mittal, Vice President – Lions Club and Mr. Gaurav Mittal, Coordinator Blood Donation – Lions Blood Bank.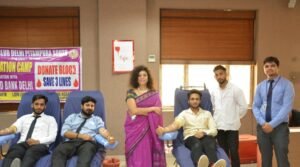 The students of PGDM Batch 2018-20, presented a heart touching "Nukkad Natak" to mark the importance of donating blood. Dr. Makkar motivated the students & GLBIMR faculty & Staff members to participate in the worthy cause and to set an example that Blood Donation is the best and purest contribution one can make for the benefit of the society, which costs nothing but its value is more than anything else. More than 150 Students, Faculty and Staff Members registered themselves for the donation and augmented the feeling of giving.
In continuation of the event, Dr. Makkar also inaugurated the event 'Vanmahotsav' – Tree Plantation Drive by planting the saplings and addressed the audience that tree plantation is a harbinger of prosperity and this small initiative would let our coming generations lead a healthy life. The students engaged wholeheartedly in the plantation drive. They planted more than 200 saplings under the guidance of their faculty. After the plantation students pledged to plant more trees and to safeguard the nature by display more enthusiasm in planting saplings. Students thoroughly relished the activity.
All the Students, Faculty and Staff Members actively participated in the "Tree Plantation Drive" by planting the saplings within and outside the campus.  GLBIMR actively conducts corporate social responsibility activities from the perspectives of the well-being of society and this annual initiative of Blood Donation Camp and 'Vanmahotsav' Tree Plantation Drive are one such stride in the same direction. The students and members of GLBIMR participated enthusiastically in these noble causes.