In this time of the pandemic, doctors were not the only ones who worked hard day and night to save people's lives, but teachers were also there who worked hard tirelessly to give their students the best they could give.
Covid-19 locked people into their homes, due to which neither the university students could attend their classes, nor the pre-primary ones could start their learning.
Teachers all around the world spend hours teaching their students online in the best possible way. In this online learning, process assignments were also given online, making it difficult for teachers to check the work students submitted.
To overcome this issue, there are plagiarism checking tools to help teachers check duplication in the assignments students submit via emails or any other tool.
When the learning process is done online, students don't take it much seriously to attend classes on time and often copy work from their counterparts.
This makes it difficult for the teachers to check whether the work is original or copied from any other source. Therefore, in this article, we have come up with 5 of the best tools that teachers can use to check plagiarism in work assigned by the students.
1. Plagiarisma
This is one of the plagiarism checking tools that are pretty simple and easy for people who can use it daily to check their content.
It does not require any subscriptions or registrations to check your content; you just need to upload, copy the URL, or copy-paste the text, which needs to be checked for duplication.
This tool has a very simple interface that allows all types of people to use it without any worries. You will not have any kind of complicated sections which will confuse you. You can enter your text in any language, and the result will be provided in just a few seconds.
2. Check-Plagiarism.com
This easy-to-use plagiarism checker is also one of the best tools teachers can use to check plagiarism for free in their students' assignments.
This tool works amazingly and provides accurate results. Unlike other tools, here, you will not get any advertisements that will annoy you or take your time.
From the options given, you need to select the best one to check plagiarism in your content, and the results will be there in front of you in seconds.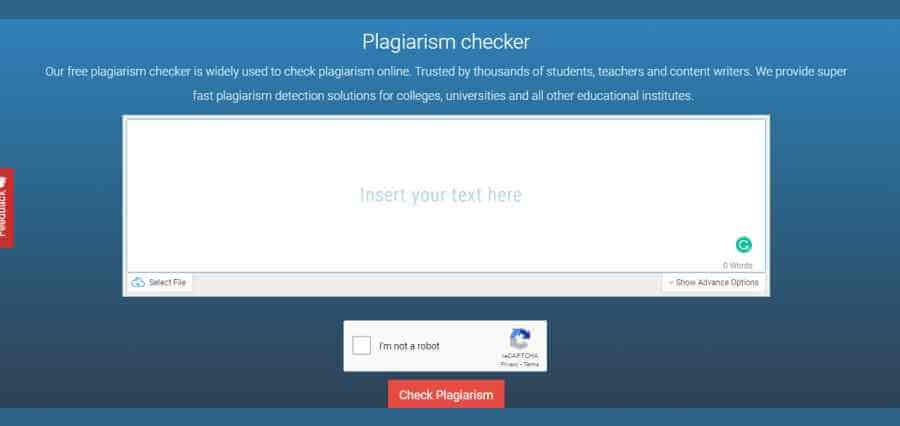 This tool is available for free on the internet, and it is very easy to access. People can use it while doing other tasks and check their content for uniqueness.
Students and freelance content writers can also use this tool to check the originality of their content before sending it further.
3. Plagly
This is also one of the plagiarism detecting websites where you can check your content for duplication, and it compares your content from over 20 billion sources on the internet. It's a free checking tool, and you need to provide your content and click on the check your text button, after which the results will appear in the form of percentage, and you will get to know the originality of your text.
This tool is one of the smartest tools for checking plagiarism is widely used by students, teachers, and freelancers. Here you will not have to pay for utilizing the services it provides, it is completely free, and you can check as much content you want in one go.
4. Edit pad
One other tool to detect duplication in your lengthy essays and articles is the edit pad tool, where you can easily see copied content.
Like other tools mentioned above, this is also developed with advanced artificial intelligence that scans each word in your content to match thousands of websites on the internet.
If you are busy completing assignments or articles, you can check all of them in one go after you are done with writing.
It does not restrict you with words. You just need to provide content and leave the rest on the software. The results are accurate and authentic, and you can compare your content from other websites once you are done checking it.
5. Scan my essay
This is also one of the websites that provide plagiarism detection in all types of content created for a website, blog page, or social media website. As the name explains, this tool scans each word to make sure your text is unique and not plagiarized from any source.
Just like other tools, here, you can also expect to get accurate results within seconds. As it is developed with state-of-the-art technology, the tool is quite convenient for users to use from anywhere they want to.
Conclusion
Using a plagiarism checker can always save your time and effort. If you wish to check and compare your work with other sources on your own then, it might take a day or more just to compare it with a few sources.
A website is built with advanced technology that allows it to scan through several web pages on the internet to give you the correct report.
A human brain ought to copy a few words from many sources, and in this way, people use words and ideas of other people they are unaware of.
Therefore, checking your content before it is passed on to somebody else is quite important. It will not only save your time, but you will also be saved from submitting or publishing copied content.
Teachers only appreciate content that is unique and original. Several universities and colleges expel students who submit plagiarized work.
Such tools also work very well for teachers who need to check their students' work very often. Teachers can save a lot of time by just uploading the content on a plagiarism detector, and they can obtain results within seconds.
If you are a student or a content writer, then you should use such types of tools in your favorites. These will help you learn new ways of writing, and you will know which part you need to amend and which is correct.