School-wide effort
As part of a school-wide effort of being environmentally friendly, students from Stamford American International School has collaborated with Sun Electric and installed new solar panels.
Student-led Initiative
As a complete student-led initiative, the project started in October 2017 with 2 student representatives, Jonathan and Mark, from the Stamford Green Lions Club. The Club developed a proposal and presented it to Stamford which then progressed to meetings with the prospective solar providers. The analysis that was undertaken by one of the Club members, Jonathan, was so spot on that it matched the data provided by one of the Chief Engineers. Their dream was on the way to becoming a reality when they met with the School Operations Team in May 2018 and installations started soon after.
Number of panels
The new solar panel array, which consists of 845 solar panels, are capable of producing of about 426 MWh of solar electricity yearly and will offset about 200 metric tons of carbon. Five percent of the solar energy generated from the solar panels will supplement Stamford American's current electricity usage while the remaining 95 percent will be channeled to
other smaller and medium-sized corporate customers and for potential use by homeowners through Sun Electric's Solar Space platform.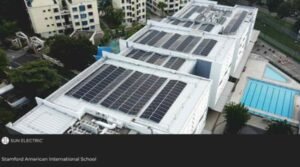 Tracking
The solar panel installation is an educational opportunity as well. Sun Electric's engineers will conduct lessons to educate students on the need for clean technology and there will be a program allowing students to learn through interaction with the solar power system's live data interface. Teachers and students are able to track the energy produced by these solar panels through an online dashboard powered by Sun Electric. The dashboards are displayed on the television screens around the school and will provide statistics about electricity usage. New subjects will be incorporated into the school curriculum such as Sustainable Development and Environmental Science.
"We are proud to have continued our green journey with Sun Electric, whose installation of solar panels on our rooftops have been a break through addition to the Woodleigh campus." said Dr Eric Sands, Stamford American International School Superintendent.
We hope with this new solar panel installation it will help benefit and educate Stamford American community and the larger Singapore community about the need for clean energy.
About Stamford American International School:
Stamford American International School (SAIS) is the only school in Singapore to offer the full International Baccalaureate (IB) Programme integrated with US Standards, combined with the College Board's Advanced Placement (AP) courses. At Stamford American, we have a vision to inspire each student to create their unique future, academically, socially and as ecologically literate citizens in our culturally diverse world. Our students not only have the opportunity to choose a sought-after education pathway to help realize their academic ambitions, they are also provided with life skills reflective of the IB Learner Profile as adaptive, thoughtful and principled young adults, with a fostered inclination to design, innovate, problem solve and communicate.
Stamford American International School is celebrating its 10th Anniversary this academic year 2018 – 2019.
For more information, contact:
Afiqah Aziz
afiqah.aziz@sais.edu.sg or sais.marcommdept@sais.edu.sg
STAMFORD AMERICAN INTERNATIONAL SCHOOL 1 WOODLEIGH LANE, SINGAPORE 357684
+65 6653 7907